SEASITES I
Clear and reduced structural elements in harmony with the environment.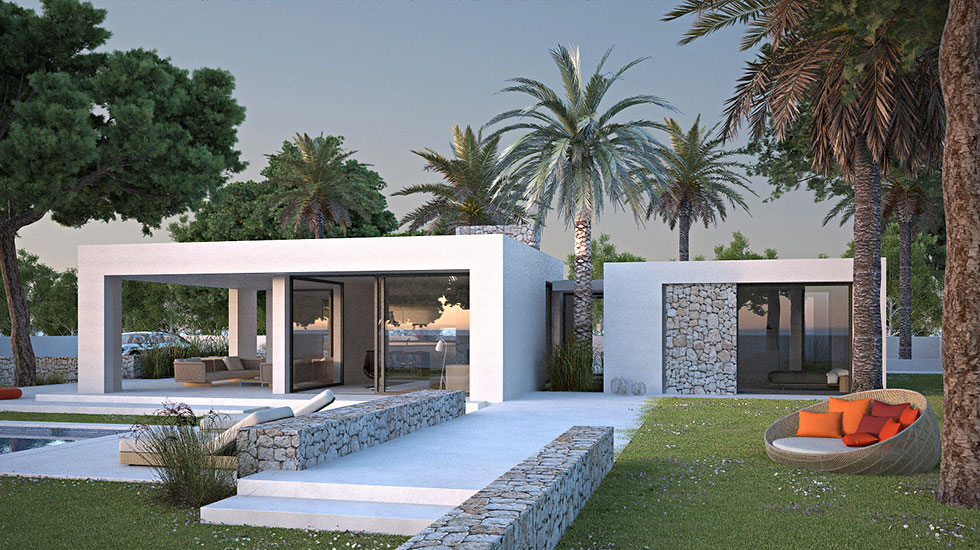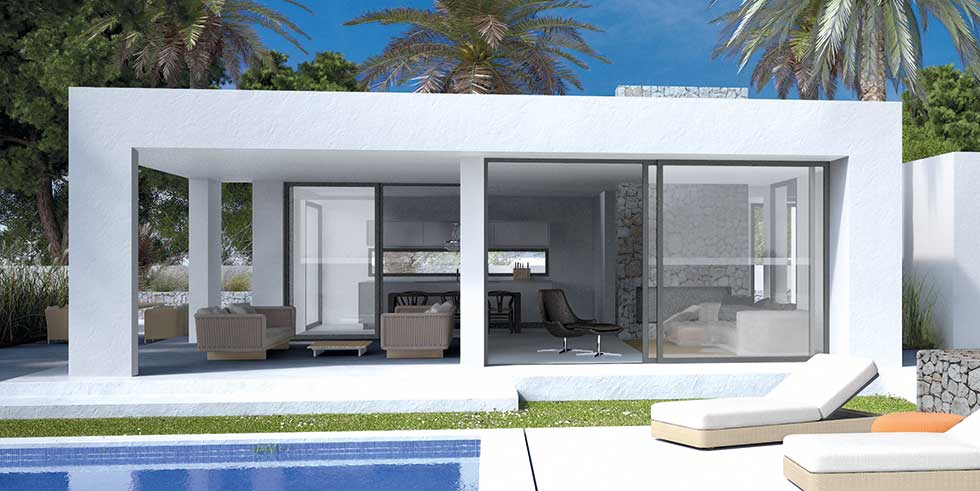 THE CONCEPT
The central axis of access divides the ground floor into living and sleeping areas. The lounge area represents a spacious "sanctuary" with many connections to exterior spaces. In its centre there is an impressive fireplace made of massive natural stone. The spacious covered terrace extends the living area into the open. Large glass elements, rooms that commune with nature, an open, flowing layout. A house which combines the amenities of living in the sun with an individual and timeless design.
The clearly defined structural elements are embedded in their Mediterranean surroundings, connecting with them through their materiality and clear-cut openings.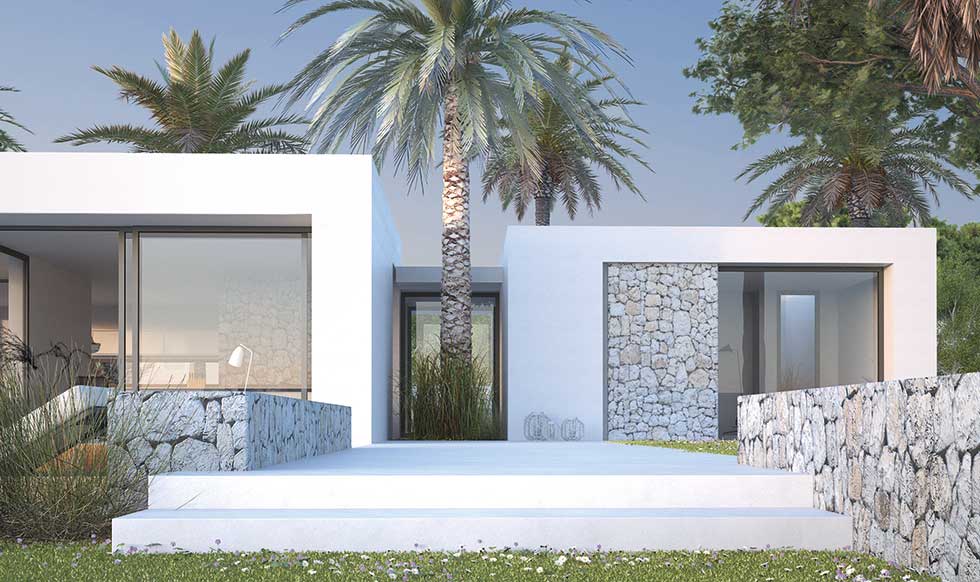 On entering the house your eyes are directed onto the Mediterranean garden through the large glazing on the opposite site, thereby creating a charming interplay between interior spaces and their surroundings.
The kitchen opens out generously towards the more private area of the property and the adjoining terrace protected from views – a magnificent place to take your breakfast.

Part of the sliding, ceiling-high terrace doors disappear into the external walls thereby becoming invisible when open. As a result, the interior space is transformed into a large covered terrace during the summer months. This way, a flowing transition between interior and exterior spaces is created.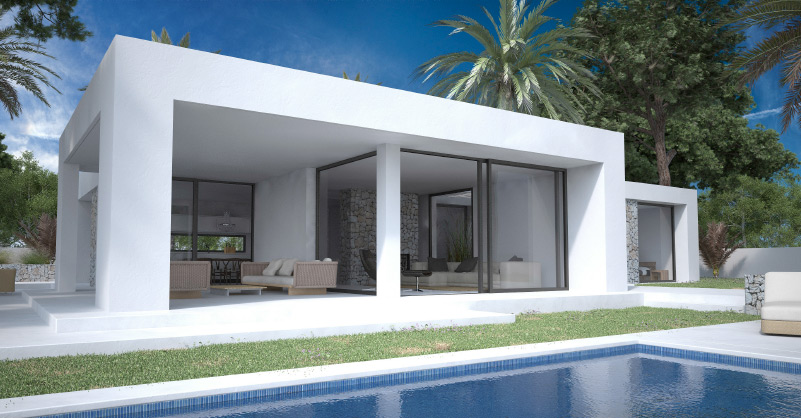 Kitchen and dining areas are agreeably separated from the living areas by a ceiling-high natural stone fireplace, without breaking up their unity. Together with the living and dining areas the covered terrace forms a clever ensemble with multi-layered, reciprocal references, thereby becoming the living centre of the house, wholly following Mediterranean tradition.
At its top end the bathroom with its ceiling-high glazing is framed by a patio with plants. When the sliding doors open you will get the feeling of having a bath in the open air, completely protected from views and surrounded by plants and natural stone walls that are typical of the Mediterranean area.
FACILITIES
Central floor heating throughout the building with heat pump by "Daikin"
Hot water supplied by solar panels
Ceiling-high fireplace made of solid regional natural stone
Façade areas covered by regional natural stone slabs
Exterior walls made of insulating poroton bricks
High-quality kitchen with central island worktop, appliances by "Bosch" or "Siemens"
8x4 m swimming-pool with terrace, pool technology by "Astral"
35m² solid construction covered terrace
High-quality built-in wardrobes and interior doors
Quality windows and sliding doors for terraces, by "Technal" on request
Terrace doors that open by partly sliding into the wall, becoming invisible when open
Air conditioning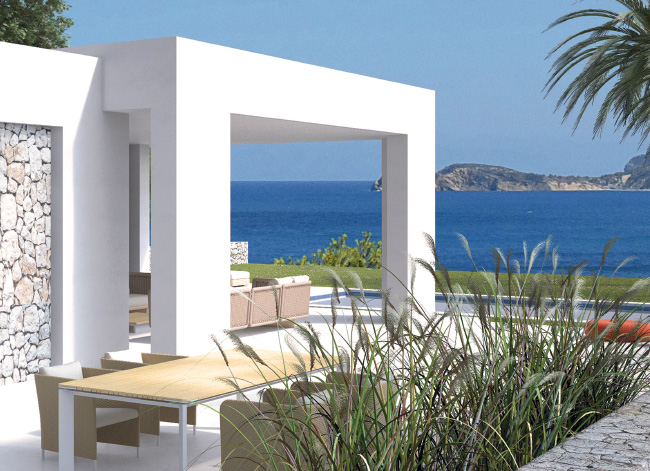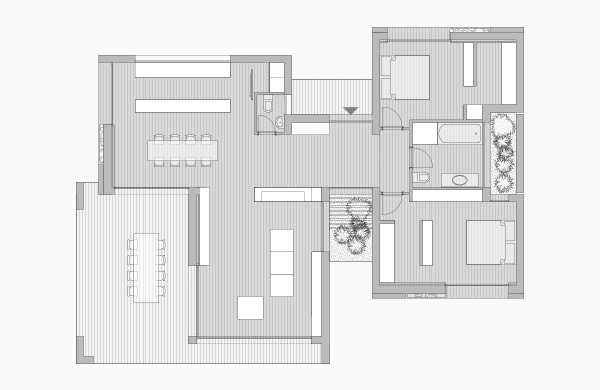 FACTS
2 bedrooms - 3 bedrooms optional
Constructed area building: 146m²
Constructed area covered terraces: 40m²

Total constructed area: 186m²
+ Constructed area terraces: 20m²
Price including swimming-pool and additional costs:
On request
Additional costs include:
Planning Permission from Town Hall
Architect and Technical Architect
Structural Engineer
Geotechnical Report
Smart Home Engineer
Surveyor