SEASITES IV
Clearly divided construction elements, all rooms oriented towards the front, with a flowing transition between interior spaces and the pool terrace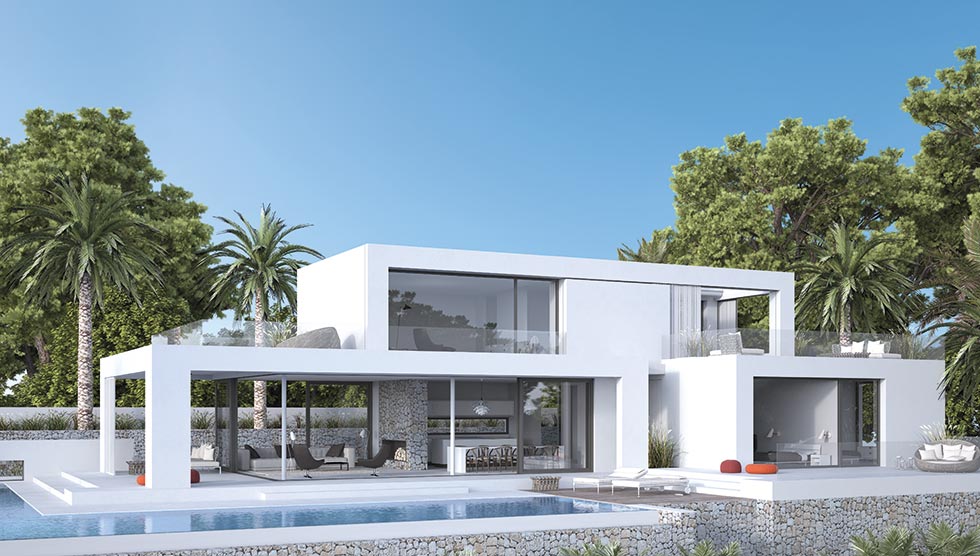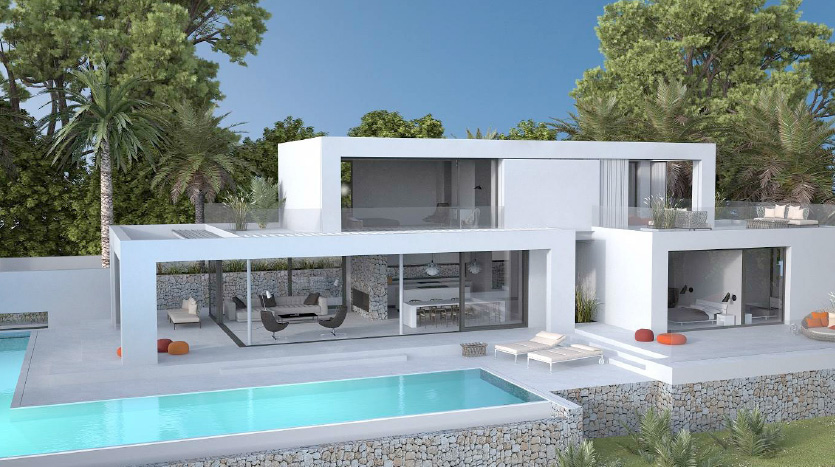 THE CONCEPT
The huge L-shaped infinity pool with its external arms measuring 15.00 m and 16.00 m forms an impressive frame for the living area, which opens almost completely, ceiling-high, thereby becoming part of the large pool terrace. The light reflected by the pool surface is all-pervasive. The refreshing blue of the swimming-pool becomes tangible in the summery Mediterranean interior.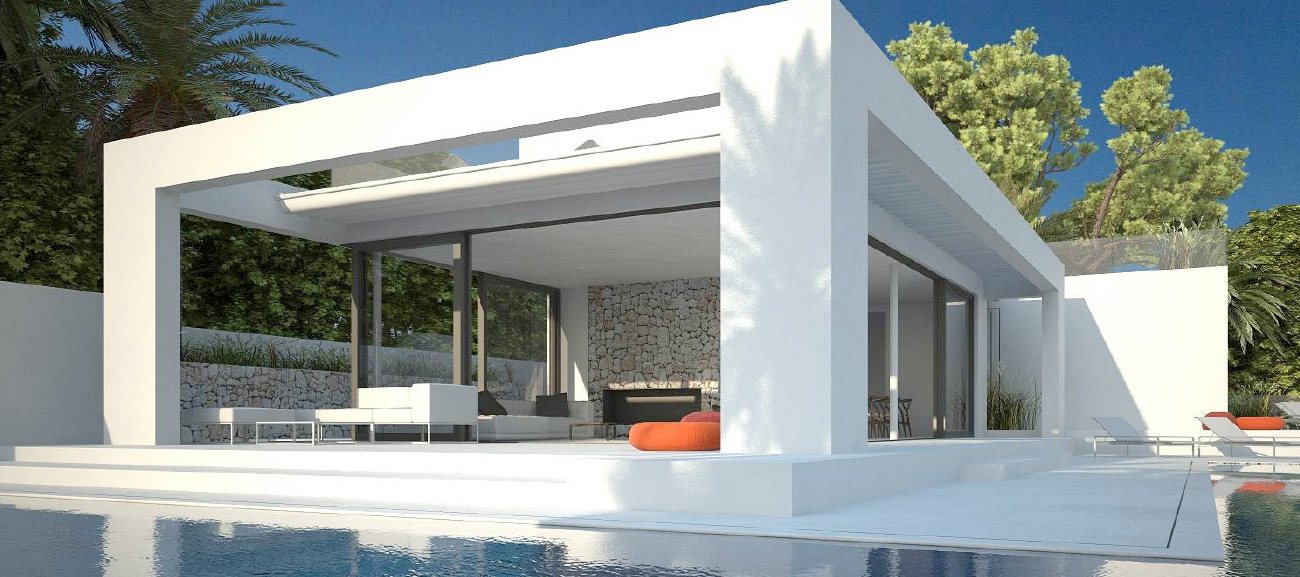 The construction extending widthwise and along the line of vision is perfectly suited to a sloping plot with sea views.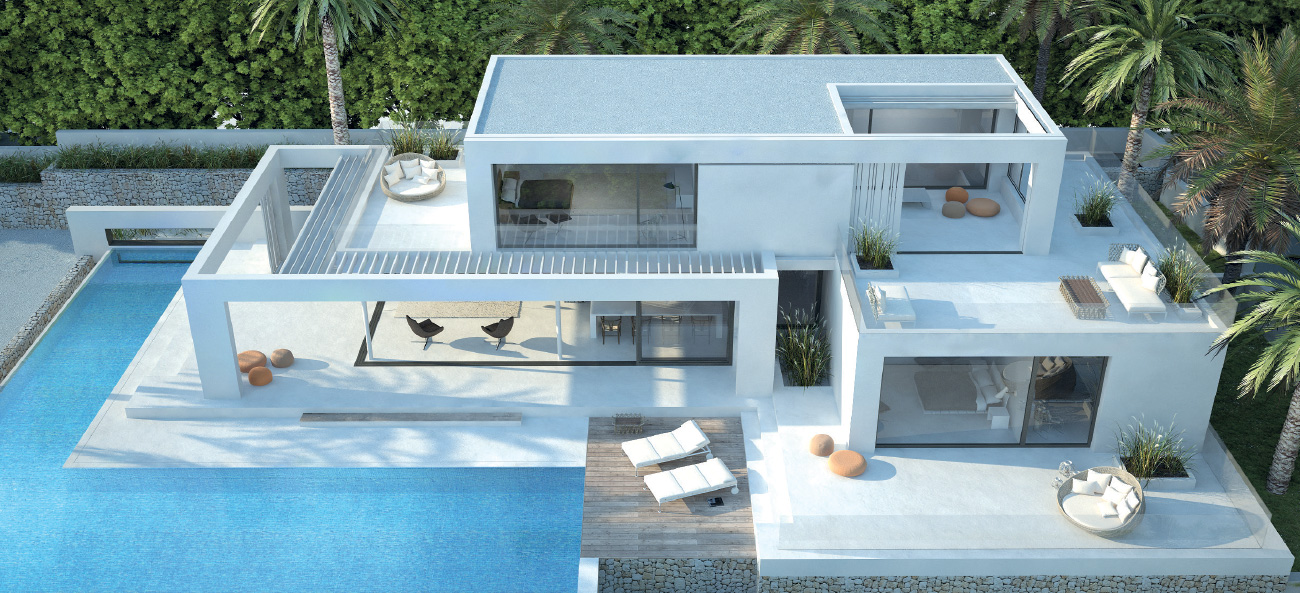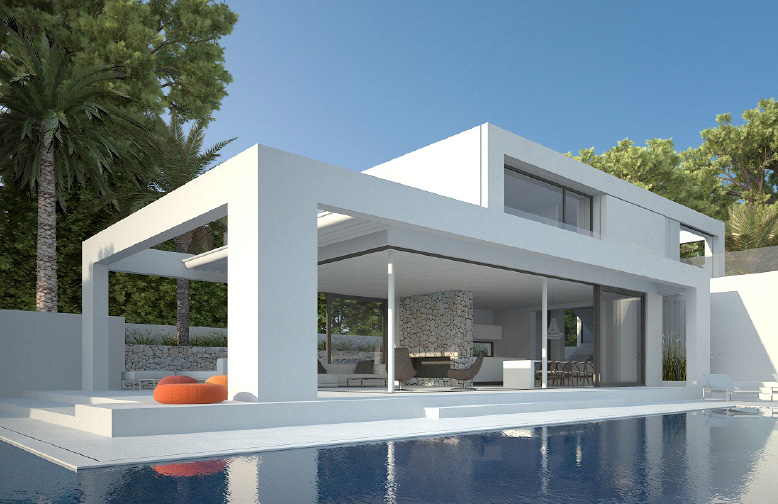 The entrance is situated in the centre of the building's areas of utilization, simultaneously forming the intersection point of the various lines of vision.
The slight L-shape formed by the structural elements encloses the pool terrace, creating a homely framework for summer days and nights in the open. A cleverly designed level difference between interior and exterior spaces additionally accentuates individual areas.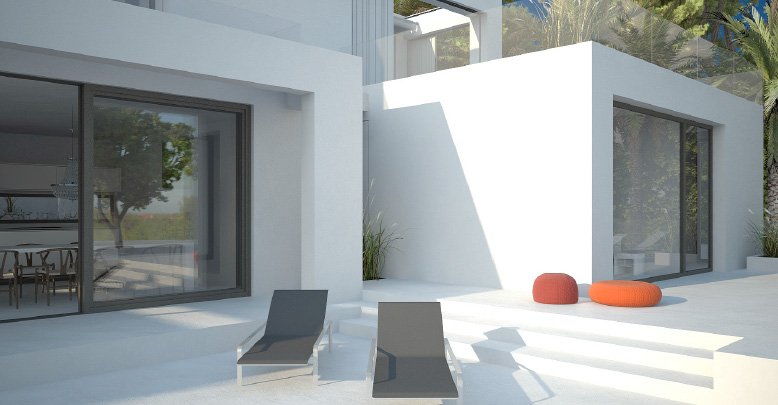 The living area is unobtrusively zoned off by the large fireplace made of natural stone. The living-room obtains its necessary independence as an area of retreat, while the kitchen remains an important part of an active home life without becoming too imposing.
All bedrooms feature true to style en-suite bathrooms with a terrace in front.
In addition to the roof terrace appertaining to the master bedroom, there is a second one with its own access. Here there is an enclosed area with movable slide elements to be used as a privacy screen which can form an excellent privacy-protected extension of the bathroom, and to allow the installation of a large Jacuzzi in which to enjoy a relaxing bath under a starry Mediterranean night sky.

FACILITIES
Central floor heating throughout the building with heat pump by "Daikin"
Hot water supplied by solar panels
Ceiling-high fireplace made of regional natural stone
Façade areas covered by regional natural stone slabs
Exterior walls made of insulating poroton bricks
Suspended ceiling in living and dining areas
High-quality kitchen with central island worktop, appliances by "Bosch" or "Siemens"
Infinity pool, pool technology by "Astral", external arms measuring 16.00m and 15.00 m
177m² built terrace area on the ground floor
High-quality, ceiling-high built-in wardrobes, 16 metres in total
Quality windows and sliding doors for terraces, on request by "Technal"
Glazing in living and dining area 19.50 metres
Electric sun blinds and wood or aluminium slide elements to provide shade or serve as privacy screen
Air conditioning
105m² roof terrace, including patio and balustrades made of security glass
Included in the price: 1 m elevation over natural ground, front end with natural stone facing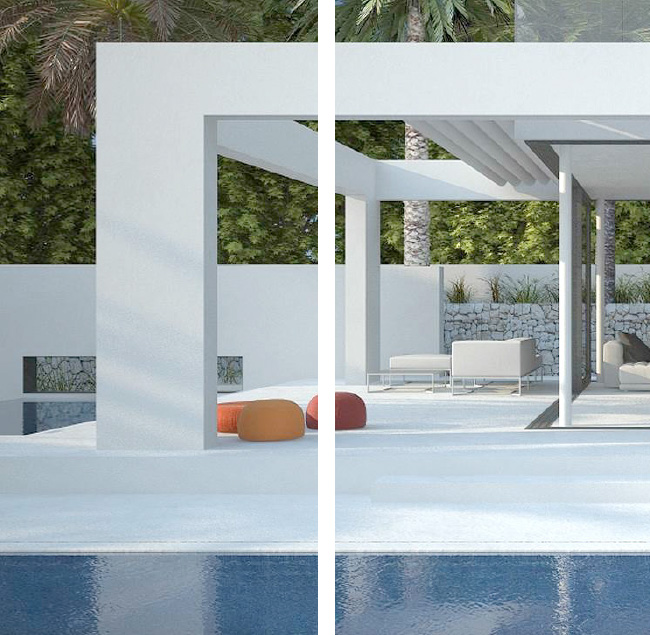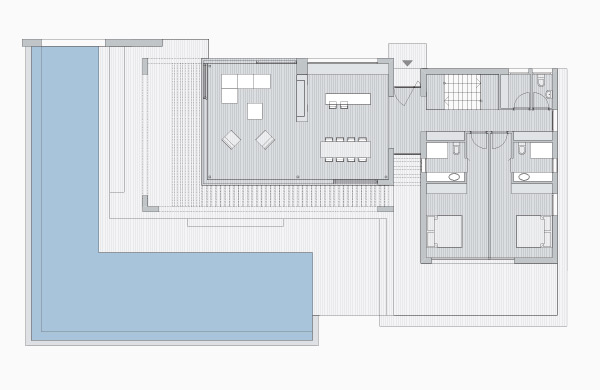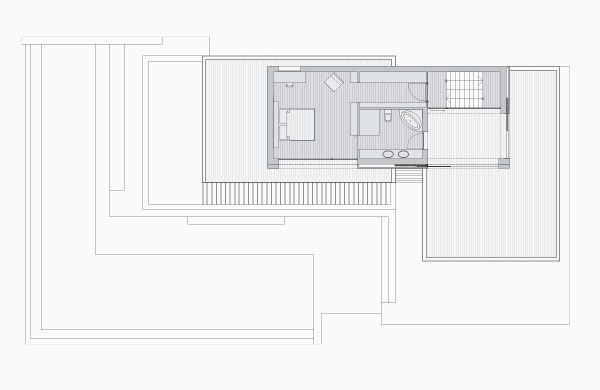 FACTS
3 Bedrooms, each with ensuite bathroom
constructed ground floor area: 164m²
constructed first floor area: 60m²
constructed area porche: 2m²

total constructed area: 226m²
+ constructed area roof terraces: 106m²
+ constructed area terraces: 178m²
Price including swimming-pool and additional costs:
On request
Additional costs include:
Planning Permission from Town Hall
Architect and Technical Architect
Structural Engineer
Geotechnical Report
Smart Home Engineer
Surveyor